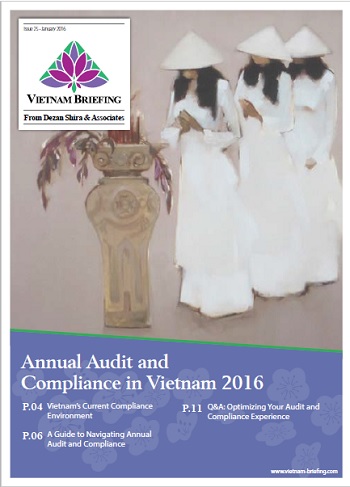 Download and read the latest online resource from Vietnam Briefing titled "Annual Audit and Compliance in Vietnam 2016". The Vietnam Briefing Magazine publishes 4 regular issues and 2 special editions per year. Its content is provided by Dezan Shira & Associates.
In this issue, Dezan Shira & Associates address pressing changes to audit procedures in 2015, and provide guidance on how to ensure that compliance tasks are completed in an efficient and effective manner. They highlight the continued convergence of VAS with IFRS, discuss the emergence of e-filing, and provide step-by-step instructions on audit and compliance procedures for Foreign Owned Enterprises (FOEs) as well as Representative Offices (ROs).
This topic is composed of 3 parts: Vietnam's Current Compliance Environment; A Guide to Navigating Annual Audit and Compliance; and Q&A: Optimizing Your Audit and Compliance Experience.
Dezan Shira & Associates has a growing team of accounting and legal professional in Vietnam with years of experience helping foreign enterprises ensure compliance.
Machica FIRM,Inc. is part of DezanShira dezanAsian Alliance.
To download the online resource, visit this page.