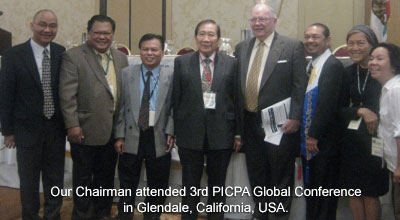 Glendale C.A. – Michael A. Machica, the Managing Partner of Machica Tan-Cruz & Co., and President of PICPA Tacloban Chapter attended the recently concluded 3rd Philippine Institute of Certified Public Accountant (PICPA) International Global Convention held at Hilton Los Angeles North Glendale at the Executive Meeting Center, Glendale, California,  on September 14 to 20, 2009. He joined the other key officers of PICPA International (USA, Australia, Canada, and Europe) and PICPA National in gracing the convention with the theme "The Global CPA's Role on International Financial Reporting Standards (IFRS)."
The conference gave Mr. Machica the opportunity of meeting Mr. Robert A. Petersen, the President of the Board of Accountancy (BOA) of California during a get-together of the top-ranking officials of PICPA. Mr. Petersen talked about CPA's involvement in worldwide economy and on the challenges involving reciprocity issues of Filipino CPAs and California CPAs. To cap the list of his contributions to the accountancy profession, Mr. Petersen was very keen in promoting the healthy relationship among California CPAs with other foreign CPAs to include the Filipino CPAs.
Mr. Petersen was appointed to the Board of Accountancy for the State of California by Governor Arnold Swarzenegger in March 2006. Mr. Machica on the other hand, assumed his PICPA Tacloban Chapter Presidency in July 2009.
Before the formal forum started, delegates spent some time enjoying the beautiful sights of Los Angeles while waiting for other delegates to arrive. The 3rd Global Convention started with Sports Festival from September 14 to 17.
Nine of the topnotch individuals in the world of Accountancy discussed different up-to-date and relevant topics such as Updates on Accountancy Practice of Philippine Government on International Commitments with WTO/ GATS, Important Things Every CPA Should Know in this Increasing Global Business Environment & International Taxation, IRS Alternative Dispute Resolution Programs, Current Updates on IFRS Convergence and / or Adoption for a Global CPA, Employment Opportunities for Accountants in the US and other Foreign Countries, Objectives and Functions of the AICPA Minority Committee, Financial Restatements & Response of Securities & Exchange Commission (SEC), Info Security Challenges & Management Controls to Meet the Challenges, and last but not the least, How to Boost Your Tax Practice.
During the Closing Plenary in September 19, three Chapters competed in the Adoption of Propositions Bids for the 4th Global Conference, namely: the Las Vegas Chapter, Qatar Chapter, and Toronto, Canada Chapter. The Toronto Chapter won the bidding to host the next Global Conference scheduled on September 19-25, 2011. The PICPA Global Conference is held after every two years.