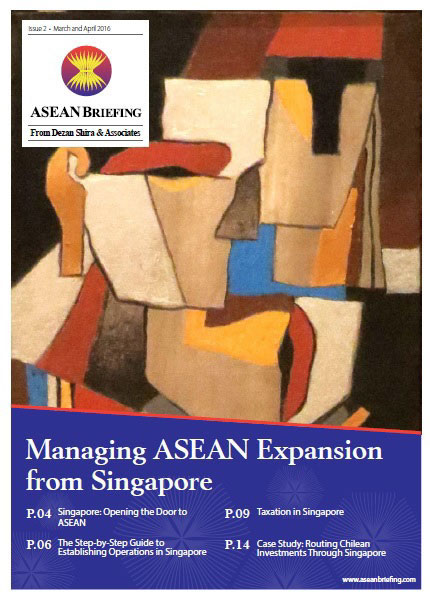 In this issue of ASEAN Briefing:
The benefits of Singapore
The Step-by-Step Guide to Establishing Operations in Singapore
Taxation in Singapore
Case Study: Routing Chilean Investments Through Singapore
Expanding internationally can be a significant challenge in foreign markets – of which the Association of South East Asian Nations (ASEAN) is no exception. Diverse economies, divergent systems of taxation, and challenging regulations can all present challenges for even the most weathered and adaptive firms.
Although crafting a strategy to maximize profit in ASEAN – a region comprised of 10 economies at varying stages of development – may seem a particularly daunting task, effective investment strategy can help to minimize uncertainty and harness ASEAN's diversity. Of critical importance in this respect is the establishment of regional management centers. Not only can these centers help to bring predictability to regional market entry; more importantly, regional management can act as an effective tool to maximize profits.
For the second issue of our ASEAN Briefing Magazine published on March 2016, we look at the benefits of using Singapore a hub for the management of regional operations throughout ASEAN.
We firstly focus on the position of Singapore relative to its competitors, such as the Netherlands and Hong Kong. We then provide step-by-step instructions on corporate establishment, and provide expert insight on maximizing returns through the reduction respective tax burdens.
Visit Asia Briefing to download the e-publication.