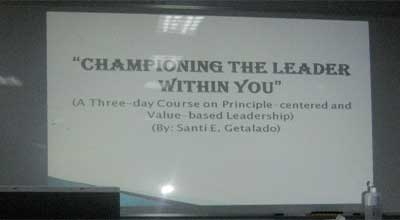 Tacloban City, Phil. – A three-day Leadership: "Championing the Leader Within You" training was conducted at Machica Group's training room especially designed for its officers and staff on October 16, 17, and 19.
Globally, it is evident that poor leadership is the reason for the crumbling of many organizations. Poor leadership is a product of ignorance of what true leadership means. To quote a famous saying, "Leadership is direction in life. It is one's mission. It is your map and compass." This is precisely what the management wants to impart to its team leaders and members.
Another objective of sponsoring the said workshop was for the personnel to gain knowledge of the values, principles, and strategies of Principle-centered and Value-based Leadership. Transformational change and implementation techniques were also part of the main agenda of conducting the said training.
The three-day life-changing and transformational course has taught the group new ways of looking at work-and-career-related problems and challenges. It enables them to discover new resolutions and options in resolving problems other than the typical and conventional means.
The participants include all department heads, assistant managers, supervisors, and staff of the Machica Group and three guest participants from other company invited by management. Mr. Santos E. Getalado, a renowned Human Resource Development (HRD), OD Consultant, and Educator was the consultant-facilitator. It was his second time to handle the group. The first one was on January 30-31, 2009 when he facilitated the Values and Team Building Seminar. Everyone was at ease in sharing ideas and suggestions with him.
Aside from a healthy exchange of relevant ideas; every meeting filled the training room with laughter. Each day, Mr. Getalado would give the participants, divided into smaller groups, a situational exercise on how they would act as leaders. It was done for them to apply what they have learned from the day's discussion. After all the groups have presented, Mr. Getalado would relate the groups' presentations to that of the day's topic.
The participants learned the different approaches of leadership like; Managing Leader, Good Leader, Strong Leader, Visionary Leader, Empowering Leader, Bridging Leader, and Servant-Leader.
With the continuous training opportunities being provided by the management, all the employees are grateful for having a good leader who never failed to provide avenues for professional growth. In fact, Mr. Getalado always point out the Group's trainings to be very rare especially in the private sector.
The three–day activity on Leadership was concluded by no less than the Founder and CEO of Machica Group, Michael A. Machica. He personally congratulated each participant for another professional milestone. He reiterated his firm's commitment of providing opportunities to enhance both technical and soft skills of personnel.