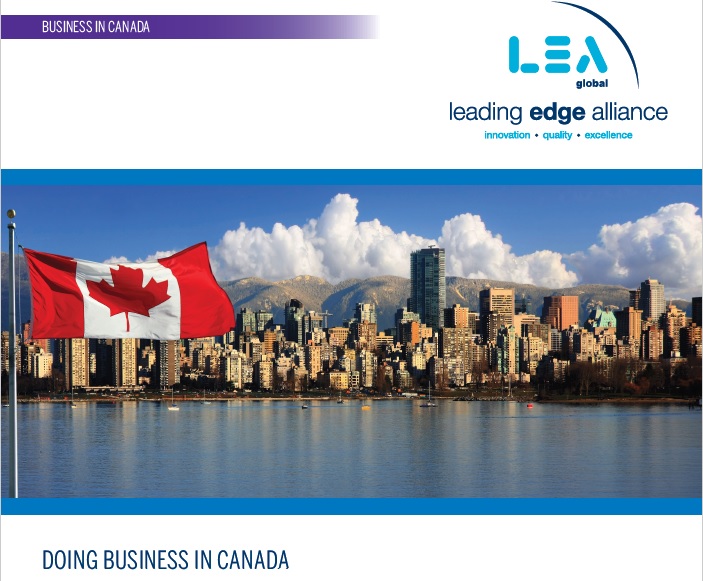 LEA Global, the second-largest international association in the world, and local member firm Machica Group (Machica Tan-Cruz & Co and MACHICA FIRM (Financial, Insurance & Risk Managers), INC.) are pleased to announce the release of BUSINESS IN CANADA, a complimentary whitepaper detailing the challenges companies face when doing business on the continent.
The whitepaper is intended to assist businesses considering doing business in Asia and provides details about the cultural, governmental, and economic forces in the various regions of the continent.
Michael Newton, the Managing Partner of FL Fuller Landau LLP, a member of LEA Global, was a source for the whitepaper and is available to answer questions about doing business in Canada.
BUSINESS IN CANADA demonstrates the depth and breadth of knowledge available from LEA member firms. Local LEA firms have the ability to tap into the expertise of more than 2,270 partners and 23,014 staff members operating in 618 offices across more than 100 countries.
To download a complimentary copy of the whitepaper, go to A Global Canada Whitepaper.
About the Leading Edge Alliance
Founded in 1999, LEA Global is the second-largest international association in the world, creating a high-quality alliance of more than 200 firms focused on accounting, financial and business advisory services. LEA Global firms' combined annual revenue totals more than $3 billion.
LEA Global firms' unique alliance enables them to maintain their independence while working together to provide the ultimate in client service and providing valuable access to understand the cultural and commercial norms across the globe.
About Machica Group
MACHICA GROUP is composed of: Machica Tan-Cruz & Co and MACHICA FIRM (Financial, Insurance & Risk Managers), INC.
Machica Tan Cruz & Co. "MTC" is engaged in the public practice of accountancy as Certified Public Accountants whose services for Philippine-based and multi-national enterprises are grouped into: audit and assurance, business and knowledge support, taxation, and business consulting and advisory. MTC has currently four active partners.
Machica Firm, Inc. "MFI" is a domestic corporation duly registered with the Securities and Exchange Commission. It offers top-of-the-line service and solution such as risk management, financial planning, life and non-life insurance underwriting, employee benefits consulting, mutual funds, variable-unit-linked life insurance, health and accident covers, alternative risk and insurance, and claims. As an insurance and mutual fund intermediary, MFI has existing contracts with Philippine leading non-life insurance companies, and one each for life insurance, health care and mutual funds.