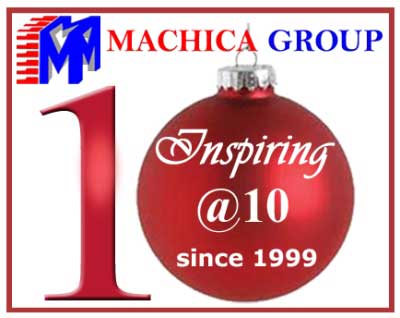 The past decade has been very inspiring for the Machica Group. As the Group reaches its tenth anniversary, the Group takes this as a great opportunity to thank all the people – employees, business partners, customers, all other stakeholders, who in one way or another, have contributed to the continued success of the Group. With the theme "Inspiring @ 10," the commemoration will be held together with the Christmas party and the 10th wedding anniversary of the founders on December 18, 2009 at the Asia Convention Center, Tacloban City.
Ten years ago a young Corporate Banking Manager in a leading universal bank, Mr. Michael Machica and his fiancée (now wife), Joan Tan-Cruz laid the cornerstone of what later would be known as Machica Group. The magical story of the business' birth was made more meaningful when Michael and Joan exchanged marital vows in a solemn church wedding on December 18, 1999.
Being a Certified Public Accountant and a Life Insurance Underwriter, Mr. Machica encouraged his fiancée to take the Non-Life Insurance Underwriter's examination. After successfully passing the test in July 2009, the two organized "Machica Accounting and Insurance Services."
As an insurance intermediary, Machica Accounting and Insurance Services sealed contracts with the biggest industry players namely; FGU Insurance Corporation (now BPI/MS Insurance Corporation), Pioneer Insurance and Surety Corporation, Malayan Insurance Co., Inc., Philippine Charter Insurance Corporation, Ayala Life Assurance Co., and Ayala Plans, Inc. With FGU Insurance as its first principal, production generation started in September 1999.
The founders' sheer dedication, hard work, adeptness, entrepreneurial spirit, deep concern to mold aspiring professionals, and genuine desire to make significant contribution to humanity, the enterprise easily metamorphose to growth stage.
To best position the major service lines and to allow optimal growth to operating units, Machica FIRM (Financial, Insurance & Risk Managers), Inc. was created in December 2002 to professionally provide insurance, investment, risk management, financial advisory, and consulting services. On the other hand, the accounting, audit, and tax services were the major services of M. A. Machica Accounting Firm [now Machica Tan-Cruz & Co].
With highly proactive management, business process outsourcing and mutual funds distribution were added to the corporate charter of Machica FIRM, Inc. in 2006.  In the same year, audit and assurance services of Metro Manila Extension Office kicked off with an astonishing market response. From scratch, significant corporate clients availed themselves of the first audit and tax season.
Truly, the Group has encountered noteworthy organic evolution in a decade of excellent, highly professionalized service and solution flat-forms. But after looking into those changes here's how the organization and its people have been "Inspiring @ 10" for 10 reasons:
1.   Setting the Corporate Culture
Who are we as corporate citizen? What do we stand for? What culture do we espouse before our stakeholders, the community?
We are a professional group with a mission of providing the best service and solution to our customers. We deal, work, and act with excellence, integrity, quality and teamwork. This is our being, our soul…
We started 2009 with a Values and Team Building Seminar facilitated by a renowned Human Resource Development (HRD), OD Consultant, and Educator, Mr. Santos E. Getalado in January 30-31, 2009. The Group's corporate values namely:  service and solution, excellence, quality, integrity, and teamwork were officially launched.
Service & Solution
We are to serve clients effectively and efficiently by providing professional, tailored-fit solutions, quality service at competitive prices. We are to deliver services with ingenuity and initiative, boldness in innovation, and openness to new ideas and methods.
Integrity
We conduct our business in the highest ethical and professional manner. We deliver professional services in accordance with the Firm policies and relevant technical, professional standards. In competing enthusiastically, we confine our practices to what is legal and ethical.
Excellence
We are inspired to excel at all times. We achieve excellence by delivering what we promise and by adding value beyond what is expected. In our pursuit for excellence, we endeavor for better ways, continuously develop our competencies, and innovate.
Quality
We consistently promote quality service, quality output, and quality people. We recognize that clients expect value for money and demand quality services. Quality services attract and retain quality clients and quality people. Improved quality services would mean better control of business risks. Quality differentiates us in the market place.
Teamwork
We believe in effective team effort and synergy. Espousing teamwork spirit with peers, colleagues, and clients allow us to reach best solutions.
2.   International and National Executive Development
One of Machica Group's top priorities is investing on professional advancement that is why key officers are sent to international and national executive programs aimed at honing their leadership and managerial capabilities.
Michael A. Machica – Chairperson / CEO / Managing Partner
Strategic Business Management, Kuala Lumpur, SIDA scholar
Mr. Michael A. Machica went to Kuala Lumpur, Malaysia in March 30 to April 4, 2009 for the final leg of the SIDA-sponsored advanced international training program in Strategic Business Management. In this seminar, the early wins of the strategic business plan were reported and discussed with the distinguished faculty acting as "gurus."
The training started in Stockholm, Sweden, in September 29 until October 17, 2008. Mr. Machica was the lone Filipino Scholar of the Swedish International Development Cooperation Agency (SIDA) and was among the 25 delegates from Asia and Europe.
Joan C. Machica – Vice President – Finance & HR
Human Resource Management Courses, Ateneo de Manila University
Ms. Joan Tan-Cruz Machica completed her studies at the Makati-based Ateneo de Manila University, Center for Continuing Education in partnership with Ateneo Center for Organization Research & Development (CORD) namely; Basic HR for Line Managers which run for three days from April 16, 17 & 18, 2009; 9:00am to 5:00 pm and Essentials of Supervision which run on May 14-15 & 21-22, 2009.
Maria Zyrah V. Alcober – Partner
Master in Business Administration, ADFC
Ms. Maria Zyrah V. Alcober finished her Master in Business Administration at Asian Development Foundation College, Tacloban City in March, 2009 as a company scholar.
Ma. Grace A. Machica – Partner
Certified Internal Auditor (CIA) Review Program
Ms. Grace A. Machica completed the review series in Makati for Certified Internal Auditor's international certification administered by The Institute of Internal Auditors – Philippines as a company scholar. Ms. Machica is scheduled to complete the computer-based CIA test before the year ends.
Donald O. Velasco – Asst. Manager & Business Dev. Officer
Certified Business Administrator's (CBA) Program
As a company scholar, Mr. Donald O. Velasco completed the Certified Business Administrators (CBA) final assessment run by DM Competitive Advantage, Inc. at the Asian Institute of Management (AIM) campus, Makati City, held from June 20 to August 22, 2009.  He later received notice about his eligibility to apply for full membership from the Association of Chartered Business Administrators (CABA) in Canada.
3. Continued Professional Development
Motivated to be the best service provider in its chosen markets, Machica Group provides avenue for optimal professional growth among its personnel. It continues to hone staff competitiveness through internal and external trainings.
We believe in the primacy of human resource in gaining strategic competitive advantage.  Our organizational performance is inextricably linked with the competence and character of our personnel.
On September 5 to October 10, the Machica staff underwent an English Training course under Dr. Corazon C. Maye, Ph.D. at the English Training Center, People's Center & Library, Real Street, Tacloban City. The English Training is a yearly activity.
It was then followed by a Leadership Training; "Championing the Leader Within You." Mr. Santos E. Getalado conducted the training at Machica Group's training center especially designed for its officers and staff on October 16, 17, and 19, 2009.
4.  International Qualifications
In line with providing the best solutions to clients, the management team of the Group holds international qualifications.
Michael A. Machica
Certified Internal Auditor
Certified Financial Services Auditor
Accredited Quality Validator / Assessor

Joseph Tan Cruz
Certified Internal Auditor
(Global Top 5, Excellence Awardee)

Granted by
The Institute of Internal Auditors
Florida, U.S.A. and its Philippine Chapter
www.theiia.org

-do
In addition, this year, Mr. Machica was admitted as an Associate Member of the Association of Fraud Examiners (www.ACFE.com) based in Texas, U.S.A.
5.  Complete Service & Solution Offering
We provide a dynamic mix of professional services and solutions through the following companies:
Please refer to the menu on our service offerings.
6.  Global Reach & Servicing Capabilities
ONE WORLD, ONE ECONOMY… We are indeed on a borderless, knowledge-based economy. At an increasing rate, everyday national economies integrate with the international economy through trade, foreign direct investment, capital flows, and the spread of technology. Hence, the Group has a global reach well in place.
This year, Machica Group becomes an independent member of The Leading Edge Alliance (a global alliance of independently-owned accounting and consulting firms). With a mission to improve the performance of truly exceptional CPA firms, the Leading Edge Alliance was founded in 1999 in the U.S., LEA is ranked as the 3rd largest international firm association for 2009 as published by the International Accounting Bulletin with over 10,000 professional staff, around 1,400 partners and over 14,000 total staff, and with revenues exceeding 2.1 billion (US Dollars).
The Machica Group is the sole member of LEA in the Philippines.
Being a member of LEA, the Group has these benefits:
a. Peer-to-peer Advisory Services
–   Clients Issues
–   Firm Management
b. Best Practices
–   Services to Clients
–   Management Practices
–   Financial/operations Metrics
–   Technology
c. Professional Development
–   Leadership Development
–   Specialized Training
–   Staff Training
d. Award winning "Edge Magazine" – Electronic & Hardcopy
e. Ability to Service Clients Worldwide
f.  Marketing Support
g. Educational Conferences
h. Member-exclusive Website
i.  Research Tools
j.  Recruiting
k. Over 300 Special Interest Groups
l. Practice Management Surveys
The Group's international affiliation provides the Group an absolute advantage as we are able to access the resources of a multibillion dollar global professional services organization, providing business development, professional training and education, and peer-to-peer networking opportunities nationally and globally – around the corner and around the world.
In addition, the affiliation allows the Group to serve foreign clients operating in the Philippines and in the neighboring countries whose parent companies are clients of LEA member firms.
Within the fold of LEA, the following partners are members of Special Interest Groups as follows:
| | |
| --- | --- |
| Michael A. Machica | International Business, Managing Partners, Global  Partners, Audit & Assurance Practice Leaders, and Tax Practice Leaders |
| Ma. Grace A. Machica | Audit & Assurance Practice Leaders, and Quality Control Directors |
| Maria Zyrah V. Alcober | Tax Practice Leaders |
7.  Best Practices
Astute organizations are in constant look out for best business practices. It allows them to race with and win competition. Such formula proved useful in Machica Group's strategic directions. Our team is spread to benchmark leading best practices through international and national conferences and seminars provided by leading authorities such as PICPA Global and National, The Institute of Internal Auditors, Association of Certified Fraud Examiners, Association of CPAs in Public Practice, BSP Institute, academic institutions, among others.
The CEO / Managing Partner, Michael A. Machica attended the 3rd Philippine Institute of Certified Public Accountants (PICPA) Global Convention held at Hilton Los Angeles North Glendale & Executive Meeting Center, Glendale, California, on September 14 to 20, 2009 where he met the President of the Board of Accountancy (BOA) of California, Mr. Robert A. Petersen, and other dignitaries in the global accounting arena.
Likewise, Mr. Machica attended the recently concluded 64th PICPA National Convention in Manila.
8.  Awards and Recognitions
The Group takes pride for its unrelenting progress since 1999. The growth is cemented with external recognitions from peers, business community, local government, and the academe.
Michael A. Machica
Award

"Achievers of IAME" December 6, 2009

Awarded by:

International Academy of Mgt. & Economics (IAME) Alumni Management Conference
In December 4, 2009, Mr. Machica received a letter from International Academy of Management and Economics (IAME) Associate Director and Alumni Awards Committee chairman, Dr. Robert F. Galindez, congratulating him for having been chosen by the committee for the "ACHIEVERS OF IAME" award in recognition of his outstanding accomplishments which according to Dr. Galindez, "demonstrated the canon of excellence by which the academy stands for." He accepted his award at Westown Hotel, Iloilo City, during the General Alumni Homecoming Celebration on December 6.

Mr. Machica completed his M.B.A. at the IAME in 2005, class valedictorian, outstanding graduate in academics (magna cum laude – equivalent), and leadership awardee. IAME is a globally recognized international business school based in Makati City.
| | |
| --- | --- |
| "Outstanding Alumnus in Business & Accountancy" February 16, 2007 | E.V.S.U., Centennial Celebration |
| "Young Achiever in Public Practice" PICPA National Awards November 30, 2006 | PICPA 60th National Convention |
Citation:  "For his exemplary and meritorious service and active participation in the affairs of the Institute, serving PICPA in the past 15 years, giving life to the ideas and tenets for which the Institute stands;  for his invaluable contribution, particularly to Tacloban City Chapter as the Public Relations Officer, by providing the central knowledge of the latest updates shaping the accountancy profession, and by facilitating the much needed linkages to the Association of CPAs in Public Practice, The Institute of Internal Auditors, the public stakeholders;   at such as young age, his passion to uplift the quality of public practice in Eastern Visayas makes him an achiever, thus, contributing to the prestige of the accountancy profession".
"Outstanding Professional"
October 17, 2006
LGU, Quinapondan, E. Samar
60th Founding Anniversary
Joseph Tan Cruz
Award

"Excellence Award" for landing
Top 5, November 2007 Exam for CIAs

"Second Place"
CPA Licensure Exam, May 2005

Awarded by:

The Institute of Internal Auditors

PRC, BOA, PICPA, CPAR
M. A. Machica Accounting Firm (now Machica Tan-Cruz & Co.)
Award

"Best Accounting Firm" (Category B)
2008

Awarded by:

PICPA Tacloban & PhilHealth
Region 8
On the public practice of accountancy, audit, and tax, the Machica Tan-Cruz & Co. and / or its partners are duly recognized and accredited by the following regulatory authorities:
Board of Accountancy
Securities and Exchange Commission
Bureau of Internal Revenue
National Electrification Administration
Insurance Commission
Bangko Sentral ng Pilipinas
Machica FIRM, Inc.
(Financial & Insurance Division)
•           Gold Award, PhilCharter Glitters at 45 Sales Drive, Philippine Charter   Insurance Corporation,  March 30, 2006;
•           Chairman's Award, PhilCharter 2004 Thrills, Philippine Charter Insurance Corporation, September 24, 2004;
•           Top Producer Award, first semester 2004, PhilCharter 2004 Thrills, Philippine Charter Insurance Corporation, September 24, 2004;
•           Top Producer Award, 1st Runner-Up, Visayas Region, Boracay Summer Gate-away Promo, Philippine Charter Insurance Corp., May 17, 2003;
•           Three times qualifier, BPI/MS Insurance Corp., National Convention (2000-2002)
•           Qualifier, Hongkong Gate-away Challenge, Ayala Plans, Inc., 2001
•           Qualifier (Area Manager & Sales Counselor Categories),  National Awards, Ayala Plans, Inc., 2002
9.   Civic Involvements and Corporate Social Responsibility
The Machica Group is a strong advocate of triple bottom-line – planet, people, and profit. As a corporate citizen, the three "Ps" are integral to the Group's mission, strategic initiatives, and day-to-day operations.
In July, 2009, Mr. Machica assumed his presidency of the Philippine Institute Certified Public Accountants (PICPA) Tacloban Chapter formalized in an Induction Ceremony held at the Ritz Tower de Leyte, Real Street, Tacloban City. He also assumed Directorship at the Federation of Active Professional Organization in Region 8 (PAFORE). Further, he is one of the Vice Presidents of the International Academy of Management and Economics – Alumni Association in the Visayas. Other Machica Group employees who are officers of PICPA include:  Maria Zyrah V. Alcober, Asst. Treasurer, and Francis Fritz L. Natividad, Secretary.
In May, the Group put smiling faces to elementary pupils of Barangay 7, Quinapondan, E. Samar by providing them school bags, slippers and school supplies.
Part of the Group's annual Christmas activities is the gift-giving to chosen charity particularly those who take care of abandoned children.  This Yuletide season, the Group has chosen "SOS Children's Village of Tacloban" as the beneficiary.
10.  We are on the Web:  www.machicagroup.com
LOCAL KNOWLEDGE, GLOBALLY-LINKED… Business through mouth or through mouse? We say, both…
In the highly competitive and fast changing world of business, the Machica Group engages in constant innovation, the latest being a highly interactive, user-friendly, powerful www.machicagroup.com website. Everyone is invited to be linked!
MachicaGroup.com is our vital key in a knowledge-based, globalized economy.
In closing, with the help and divine guidance of our Almighty, our 10 years of operation has by far exceeded our expectations. We can only express our sincerest gratitude to all our patrons, partners, and the communities we serve even as we aspire forward for many great anniversaries to come!
Management & Staff