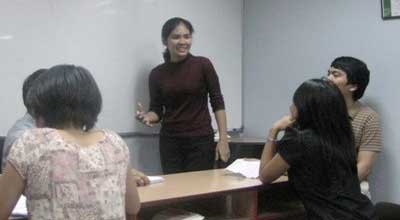 Tacloban City – Machica Group's staff took a training workshop at English Training Center at the second floor of People's Center & Library, Real Street, Tacloban City. The six-week training on Basic English and Technical Writing ran from September 5 to October 10, under Doctor Corazon Maye.
The management recognizes the importance of maintaining a good customer service in the industry. One factor of accomplishing that goal is for the staff to be good at oral and written communication. With that reason, the main objective of the staff's undergoing that training was to improve their English communication skills.
The schedule of the training was every Saturday (1:00-5:00 p.m.).  The whole training was divided into three. The first two weeks was focused of Grammar or Grammatical Structure review; the following two weeks were more on Technical Skills on Report Writing and the last two weeks were a Practicum where participants did an actual writing and followed by an evaluation.
To maximize the value of the training, all personnel were enjoined to be prepared or to review the grammar aspect. Mr. Michael A. Machica, the Founder and Managing partner of the Group, distributed reading materials for them.
Within one and a half months, the participants were honed in the proper usage of the English language which they were able to automatically apply at work.
Machica Group observes the proper phone etiquette as part of the customer friendly image that the Group promotes. The management believes in the importance of giving the clients nothing but the best to improve their services. These continuing studies do not only benefit the clients but the employees as well.
"Life is full of uncertainties, we can't tell where or what we could be doing tomorrow. I know they won't always be here in the company but wherever their path takes them, I just hope I was able to help them in their professional growth," says Mr. Machica. "I just feel like it's the least I could do to thank these people who helped shape this Group into what it is now," he added.
The personnel on the other hand are very grateful for the opportunities that the Group's president is providing for them. "We are really lucky to be given this chance; other employers would have never granted us this kind of opportunity. Especially new employees such as myself, honestly, I don't even think I deserve this." says Glaiza, a new member of the Insurance Department of Machica Group.