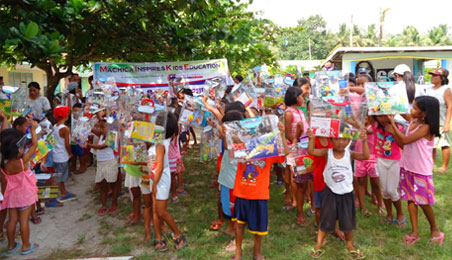 The "Back to School Program" is an annual outreach activity of Machica Group as part of Machica Inspires Kids Education (M.I.K.E) social initiatives. Back to School Program goes out to chosen barangays in the region in order to extend help to less fortunate families by giving school supplies to primary school children. The Group has been dedicated with such activity for four years now. This year, M.I.K.E. has chosen pupils at Sulangan Elementary School in Brgy. Sulangan, Guiuan as the program's beneficiary. More than 100 kids were given school bags and supplies (e.g., papers, pencil, eraser and notebooks) to prepare them for the incoming school year and to lessen the school-related financial burden of their parents.
M.I.K.E. is one of Machica Group's corporate social responsibility core undertakings. The success of the activity was made possible with the assistance of the local barangay officials and the school teachers in Sulangan who helped in the orderly distribution of the school supplies. The parents and the pupils were indeed very thankful for the support they received. They say it was such a big help.
On top of the successful charity work, the trip off the south of Samar was for the Group's personnel to enjoy and unwind. After the busy tax and audit season, the Group takes time off for a much-needed respite or what is popularly referred to as "summer outing". The outing transpired at the glorious Calicoan Villa and Resort, Calicoan, Guiuan where the beach has white sand just like that of Boracay. Devoid of any formalities or corporate suits, just plainly flip flops, board shorts, good food, and the beach. It was everybody's chance to enjoy the company of each other while building stronger working relationship.
The top management always points out to make the summer outing completely meaningful. It becomes even socially relevant as the team reaches out to those who are in need especially the young children. As the Founder and Managing Partner aptly puts it, "this is our concrete way to inspire the next generation of future leaders and professionals".