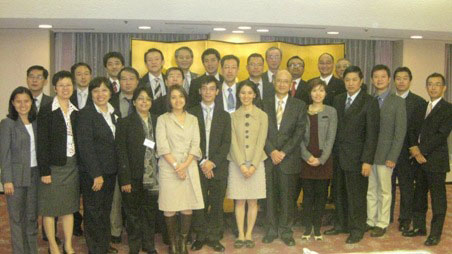 Representing the Philippine business sector, Chairman Michael A. Machica attended the 31st KANKEIREN ASEAN Management Seminar in Osaka, Japan, held on October 25 – 29, 2010 under the sponsorship of the Kansai Economic Federation (KANKEIREN) and facilitated by the Pacific Resource Exchange Center (PREX).
Chairman Machica was chosen and endorsed by no less than the Philippine Chamber of Commerce & Industry – the KANKEIREN's partner agency in the country.
The Kansai Economic Federation was established in 1946 as a private, non-profit organization.  It has around 1,500 members drawn from businesses and organizations which pursue economic activity mainly in the Kansai area.  As one of Japan's economic organizations, KANKEIREN has greatly contributed to the advancement of Japanese economy.  Currently, Kansai, which covers Fukui, Mie, Shiga, Kyoto, Osaka, Hyogo, Nara, Wakayama, and Takashima prefectures, is Japan's second largest economic region with GDP exceeding US$ 800 billion. Also, Japan's history and culture significantly started from and continue to flourish in Kansai.
The seminar was centered on the theme "Sustainable Development of Asia and Corporate Management – Correspondence to Environmental Issues, Establishment of Cross – Border Partnership". Aside from Chairman Machica, 14 other delegates from Cambodia, Indonesia, Malaysia, Myanmar, Singapore, Thailand, Vietnam, and India took part of such a significant regional event. Delegates were billeted at the renowned Rihga Royal Hotel while the seminar took place at the headquarters of Kansai Economic Federation.
The seminar is vital to KANKEIREN's human capacity building of business leaders from the ASEAN countries.  From year 1980 onwards, KANKAIREN has invited business executives and directors of ASEAN enterprises for a period of study in Kansai area. The seminar has been designed for participants who wish to obtain knowledge on Japan's leading business practices particularly on sustainable development and corporate management.  It is also aimed at promoting business relations between ASEAN countries and Japan.  Together, the economy of Japan, India and the ASEAN, is well considered the world's engine of growth.
Prior to the actual seminar, delegates were required to submit pre-seminar reports such as:  current organizational problems, management strategies taken to resolve the problems covering:  technological capability and productivity, marketing, human resource development, and correspondence to environmental issues.
For their part, the working team of KANKEIREN and PREX has, around the theme, pre-identified topics for discussion and deliberation during the seminar proper:
Asia's socio-economic changes and corporate management issues: worsening environmental problems, deepening of economic integration, development of globalization, and growing international competition.
Corporate management strategy:  improvement of technological capacity and productivity, differentiation strategy through industry-academia-government cooperation, initiatives to solve environmental problems, and globalization.
Strengthening of cross-border partnerships: ways taken by each participating companies (ASEAN, India, and Japan), and common issues and future directions.
According to Chairman Machica, the learning opportunity the seminar offered was simply exceptional – in terms of content and practical insights.  Visits to Japanese leading companies were given much emphasis as shown below:
October 25
-Courtesy call to Kansai Economic Federation
-Meeting with KANKEIREN and PREX officers
-Program orientation
-Company visit:  Rematec Corporation, Sakai City. (Rematec is into industrial wastes treatment system, recycling fuel, and material recycling utilizing subcritical water.  It created business while solving pollution issues).
-Formal welcome party:  Osaka International Convention Center
October 26
-Company visit:  Panasonic Corporation Headquarters, Kadoma City
(How Panasonic has grown from a venture to a global giant company? How it addresses environmental issues? And what are its present business strategies?)
-Visit to Kounosuke Matsushita Museum, Kadoma City (What are the values, philosophy of the founder that shaped the company?)
-Visit to Panasonic Center, Osaka City (latest green innovations, advanced technology)
October 27
-Lecture by Dr. Sumimaru Odano (Professor, Faculty of Economics, Shiga University):  Sustainable Development and Managerial Issues in the Region
October 28
-Company visit:  Johnan Corporation, Uji City (Industry-academia-government cooperation – how does it work?  What are the concrete steps on overseas business development?
-Visit to Doshisha University, Kyotanabe City (Strategic collaboration of the university with the government and private enterprises.  The University has an incubation facility for new researches of private companies).
-Move to Ishicho Shogikukan (Japanese style hotel). Personal experience and emersion of Japanese culture, customs, and traditions.
October 29
-Company visit:  Fairy Plant Technology, Inc., Kyoto City (New technology for the development and growing of vegetables).
-Discussion on the theme with Japanese corporate executives and Professor Sumimaru Odano. In attendance where representatives from Kawasaki Heavy Industries, Keihan Electric Railway, Daikin Industries, Johnan Corp., Kankeiren, and PREX.
-Final presentation of the two groups.  Mr. Machica was appointed Secretary of Group 2.  The presentation was televised by and featured in the local TV station.
-Closing ceremony  / farewall party.
Chairman Machica had been participating in a number of international executive trainings in the past.  He believes the major key to competitiveness and the differentiator in the professional services sector is not just continued learning, but learning from the world's best.  He is grateful for being chosen as the Philippine representative to the KANKEIREN ASEAN Management Seminar which he indeed learnt from the best!  At the same time, he had great opportunity networking with Japanese and ASEAN executives.
After the hectic yet progressive seminar, Chairman Machica took time to shop and to visit major destinations of Osaka.  He discovered much of Japanese history at the Osaka Castle; got dejected seeing the clippings and videos of war victims at the Peace Museum;   and enjoyed a great deal of entertainment and fun at the Universal Studios Japan.