OUR

CHAIRMAN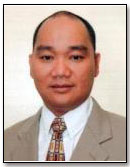 Michael A. Machica, Ph.D. cand., MBA, CPA, CIS, CIA, AQV, CFSA
Chairperson, Machica FIRM, Inc.
Founding Partner & Chair, Machica Tan-Cruz & Co
Member, Special Interest Group – International Business, Managing Partners, Global Partners, Audit & Assurance Practice Leaders, and Tax Practice Leaders – all of The Leading Edge Alliance
chairman@machicagroup.com; +63 917-3060208
Mike founded the companies while still working as one of the corporate banking managers (with regional responsibility) in a leading universal bank.
After completing the academic units (GPA – 1.0156), Mike is currently working on his dissertation for Ph.D. in Management at the International Academy of Management & Economics, Makati City.  He holds a master's degree in business administration, class valedictorian and outstanding graduate in academics (magna cum laude-equivalent) from the same academy. He earned his bachelor's degree major in accounting (as a college scholar and later as a company scholar of SGV) in 1991 from the Eastern Visayas State University, cum laude (and rank no. 1), most outstanding graduate, and YMCA awardee. He was also the University's entry to the Search for 10 Outstanding Students in the Philippines in that same year.  In 2003, E.V.S.U. invited him to be the first alumnus commencement speaker.
In addition, Mike completed credits in U.S. Business Law and Taxation from the University of Guam. He likewise completed various executive education, professional courses, and trainings as follows:
Executive education:

Risk Management for Banking and Financial Services, Indian School of Business (program delivered by Dr. Rusell Walker, Assistant Director of Zell Center for Risk Research and Asst. Professor at the Kellogg School of Management), Hyderabad, India, July-August 2012;
The Professional Service Firm Leader Program, University of Cambridge, Judge Business School, Cambridge, U.K., December 2010;
Managing Human Resource of Growing Companies, Ateneo de Manila University, April 2007.
International trainings:

Corporate Credit Analysis, FitchTraining (a division of UK-based FitchGroup), Hong Kong, June 2012;
Global Entrepreneurship, Handong Global University, Pohang, South Korea, sponsored by UNESCO & Korean Govt., February 2011;
31st KANKEIREN ASEAN Management Program (Philippine representative), Kansai Economic Federation, Osaka, Japan, October 2010;
Program for Quality Management (sponsored by the Association of Overseas Technical Scholarship), Tokyo, Japan, May 2010;
Strategic Business Management under the sponsorship of Swedish International Development Cooperation Agency, conducted in Stockhohm, Sweden in September – October 2008, and in Kuala Lumpur, Malaysia in March – April 2009.
Local trainings:

Accreditation course for Quality Assurance Assessor of Internal Audit Activity, Institute of Internal Auditors – Philippines, August 2007;
Financial Planning from the Registered Financial Planners Institute – Philippines, June 2007;
Variable Life Insurance & Investment from the Insurance Institute for Asia and the Pacific (third place in the licensure exams), December 2004.
Mike is an active member of PICPA, Association of CPAs in Public Practice, Leyte Chamber of Commerce & Industry, the Institute of Internal Auditors – Philippines, and the Association of Fraud Examiners.  In fact, he is currently the:
National Director, Association of CPAs in Public Practice
National Committee Chairman, Prof. Development & Research, PICPA
Vice President for Eastern Visayas, IAME Alumni Association
Previously, he served as the Treasurer, Regional Cooperative Development Council of Region VIII; President, PICPA Tacloban Chapter; Auditor, Leyte Chamber of Commerce & Industry; and Director, Federation of Active Professional Organization in Region 8 (FAPORE).  He also attended the 3rd PICPA Global Conference held in Glendale, California, and the 1st Asia – Pacific Conference of the Leading Edge Alliance held in Sydney.
His outstanding record in the public practice and in business earned for him local and national awards namely –
2009 "Achievers of AIME", International Academy of Management and Economics, Alumni Awards, December 2009;
2007 Outstanding Alumnus in Business and Accountancy, Eastern Visayas State University, Centennial Celebration, February 2007;
2006 Young Achiever in Public Practice, 60th National Convention, PICPA, November 2006;
Meritorious Professional Achievement, 60th Founding Anniversary, LGU – Quinapondan, E. Samar, October 2006.
In addition to his CPA title, Mike holds the Certified Internal Auditor (CIA), and Certified Financial Services Auditor (CFSA) international qualifications granted by the Institute of Internal Auditors, U.S.A.   As a CIA practitioner, he completed and passed the Accreditation / Validation Course on the Internal Audit Activity given by the IIA – Philippines.   He also obtained the highest rating (first place – 90%) during the March 2004 examinations for Certified Investment Solicitors given by the Securities and Exchange Commission.   Further, he is a licensed life and non-life insurance underwriter.
His outstanding career profile include years of successful employment as Vice President for Credit Risk Management at BDO Unibank, Inc.; Audit Staff at the SyCip Gorres Velayo & Co (a member practice of Ernst & Young); and Visiting Lecturer in a state university.
He is the Chief Editor of "The BizTAX Folio" – a newsmagazine regularly published by Machica Group.  He is also the prime mover and staunch supporter of "Machica Audit Challenge" – a collegiate inter-school quiz bowl of accountancy students, and M.I.K.E. (Machica Inspires Kids Education) – a social initiative that supports kids' primary education.
Mike has traveled across Asia, Europe, U.S., the Pacific, and Australia. He speaks English, Filipino, Cebuano, and Waray.