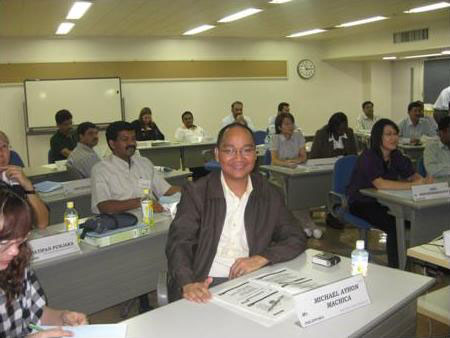 Chairman and CEO / Managing Partner, Michael A. Machica attends the Program for Quality Management under the Association for Overseas Technical Scholarship (AOTS) at AOTS Tokyo Kenshu Center (TKC), Tokyo, Japan, from the 12th to 25th of May, 2010.
The Association for Overseas Technical Scholarship (AOTS) is a non – profit association run with Japanese government subsidies from the Ministry of Economy, Trade and Industry (METI). The Program for Quality Management (PQM) is designed as one of AOTS's flagship courses for all the developing countries to learn business management/administration techniques and their underlying ways of thinking which are characteristic of Japanese companies.
Mr. Machica was the lone Filipino among the 26 participants coming from Asia, Africa, Southern Europe, and South America who were rigidly chosen by the AOTS.
The program's objectives includes enabling participants to promote Total Quality Management (TQM), which is aimed at enhancing customer satisfaction through improvement of the quality of products and services by mastering the concept, methodology, and promotion methods of QTM.
The curriculum was designed to effectively enhance participant's capabilities to promote TQM so that by the end of the program, participants were able to understand the conceptual framework to TQM and the basic theory of quality and management; comprehend the concepts and implementation methods of the major TQM elements, including policy management, daily management, QC circles, quality assurance, quality improvement, and the key success factors of companies effectively applying TQM and gain new insights into the roles and responsibilities of managers and business executives in promoting TQM.
Main topics were subsequently discussed by program directors, Dr. Noriaki Kano and Mr. Yukihiro Ando with some help from Mr. Yoshihisa Matsuda, President of Matsuda Consulting Engineer Office, and Dr. Watalu Yamamoto, Assistant Professor, University of Electro-Communications. Furthermore, visits to Japan's top companies were integral to the program.
Dr. Kano is one of the world's most prominent figures in the field of TQM and he is worldly renowned as the founder of "Kano Model." He is currently the Professor Emeritus of Tokyo University of Science, Honorary Chairperson of Asian Network for Quality (ANQ), Committee Member of Deming Application Prize, Academician of International Quality Academy, and Board Member of Komatsu Co., Ltd., Union of Japanese Scientists and Engineers (JUSE) and Association for Overseas Technical Scholarship (AOTS) while Mr. Ando is a TQM consultant, Lead Examiner of Deming Prize Committee, Board Member of Asian Network for Quality (ANQ), Honorary Advisor, Saitama Region QC Circle, and a Member of the Committee on the Domestic Response to ISO/TC176. As a TQM consultant, Mr. Ando has had great success in numerous companies within Japan and overseas, spanning a wide range of industries, from manufacturing industry to the service industry.