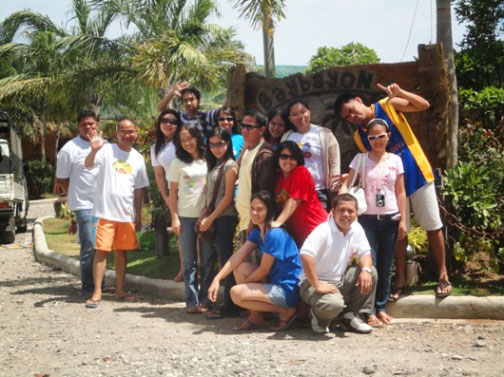 The Machica Group officers and staff went to the pristine Baybayon ni Agalon in Albuera, Leyte on May 6 – 7, 2010 for the group's annual summer outing escapade.
All employees traveled for two-and-a-half hours from Tacloban City to Albuera, Leyte in a coaster. The travel may be long but the employees did not mind at all because they were all enjoying the ride. With excited faces, everyone was eager to enjoy the much sought vacation following the hectic audit season.
The group arrived in time for lunch. With sumptuous catering readily waiting, they ate together at the tree house. After eating they were showed to the grand function room of the resort which served as their sleeping quarter.
Thereafter, each member eagerly went to go around the native-inspired resort for some picture taking then they went to visit a nearby school to give away school supplies for the primary graders. Late in the afternoon, each personnel together with selected guests enjoyed parlor games and swimming.
That day was not only about charity and enjoyment. After the dinner; Mr. Machica announced that they are going to have a short program. The new employees were asked to share something about them and some were asked to sing. But the evening's main event was the surprise awarding of plaques to the most outstanding employees during past audit season. Aptly dubbed as "Chairman's Award" in diamond, gold, silver, and bronze categories, eight personnel were honored. Mr. Machica concluded the activity with a very touching speech.
The following day, the group had the pleasure touring the resort; others indulged in swimming, and extra bonding. After lunch, while seemingly hesitant, the group had to go back home bringing concrete memories of yet another successful summer outing.