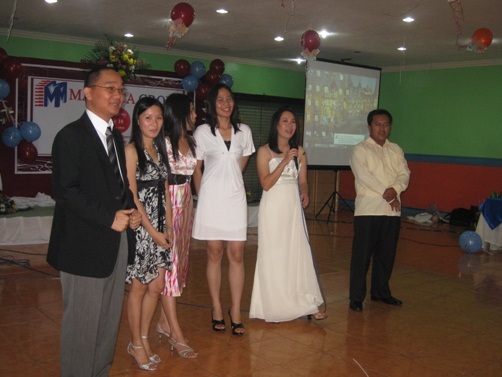 Tacloban City – The Machica Group successfully commemorated  its 10th Founding Anniversary and Christmas Party with the theme "Inspiring @ 10," at Asia Convention Center, Real Street, Tacloban City on December 18. The celebration started with a Holy Mass where Founders, Mr. and Mrs. Michael A. Machica who were also celebrating their tenth year wedding anniversary were blessed by Rev. Father Louie Endriano. A colorful PowerPoint presentation of Machica Group's inspiring history prepared and presented by Mr. Donald Velasco featured the ten years of the Group's organic growth and significant milestones. A friendly competition among three groups of employees who showcased their talent in singing, dancing and acting was another must-see part of the event. The second and third group tied for the first place so they shared prize equally. Because of the better performance they showed than that of the prior year, Mr. Machica gave an additional amount to each group.
In between the group competition, the occasion was made more colorful with the presentations from invited performers. Ten children from SOS Children's Village of Tacloban who were the chosen charity beneficiary of the gift packs and cash from Machica Group performed a sing and dance  number. In red shirts and Santa Claus hats, the children got the audience sing and dance along with them. The Bossa Nova Band added a romantic touch to the celebration as they played a special song for the Group's VP, Joan Machica as her husband, mother in law and children went to offer her flowers.
Another highlight of the event was the launching of the Group's Website: www.machicagroup.com. Now Machica Group is just a click away. This is to make the service more convenient for the clients and other stakeholders. Machica Group.com will also allow the group to be linked worldwide. Mr. Machica has a big heart for kids and sees education as the best way to eliminate poverty, which is why the Group formally announced the "Machica Inspires Kids Education" (MIKE) a charitable project which Mr. and Mrs. Machica opened with initial seed money of ten thousand pesos. MIKE officially becomes the corporate social responsibility arm of the Machica Group which aims to support the selected kids in their primary education. There was also an awarding ceremony for both business partners and employees. The winners as follows:
a.

Business Partners Award

Recipient

Pioneer Client on Corporate Services
Ktrust Commodities, Inc. &
Business Frontier Corporation
Pioneer Client on Corporate Services
River Valley Distribution, Inc.
Pioneer Client on Tax/ Bookkeeping Services
Asturias Group of Companies
Pioneer Client on Corporate Retirement
Rural Bank of Dulag (Leyte), Inc.
Pioneer Client on Audit and Assurance
FGLC – FCI
Pioneer Client on Life Insurance
Mr. and Mrs. Roberto Yao
Pioneer Client on Non-life Insurance
Quality Bakeshop Group
Pioneer Client on Non-life Insurance
L & M Singzon Group
b.

Employees Award

Recipient

Loyalty Award
Maria Zyrah V. Alcober
Excellence in Supervisory Multi-tasking Award
Jocelyn P. Daluz
Excellence in Multi-tasking Award
Kenneth A. Teraza
Best Team Leader
Victorino Q. Abrugar, Jr.
Excellence in Major Engagement
Donald O. Velasco
Excellence in Special Engagement
Francis Fritz L. Natividad
Excellence in Special Engagement
Jefanyl B. Alura
Excellence in Special Engagement
Quenna Rose A. Moreno
Most Improved Employee
Felly Marie G. Delector
Best Team Player
Sonny S. Tabones
Liaison Officer of the Year
Tristan  C. Morante
Aside from awarding the pioneering clients and best employees, the Group also granted a one hundred thousand worth of Accident Insurance to the first guest to arrive at the venue. The said event was meticulously planned and organized under the supervision of no less than the Founder himself, Mr. Michael A. Machica, and it was all worth the effort. He shares the success of the event to each staff for the great effort in making it happen. "…let me take this opportunity to thank the Lord above and all the people who made this event possible. Especially my staff who really prepared for their group presentations seriously…" he said in his closing remarks. After the program at the Asia Convention Center, Mr. Machica invited all personnel for a dinner at his residence.